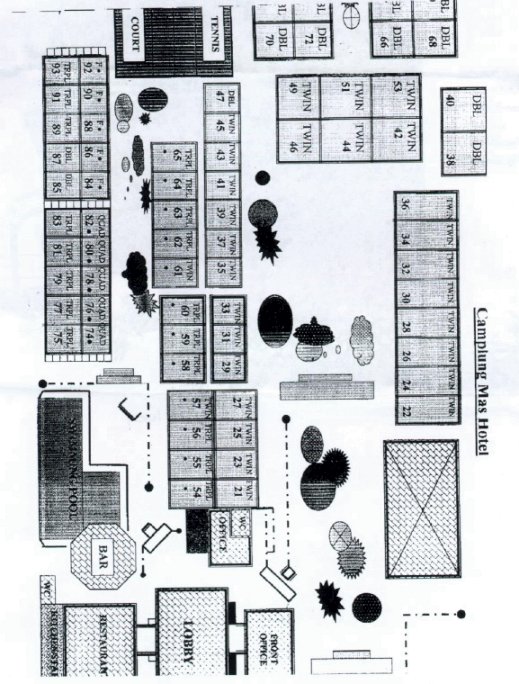 Following photos courtesy of Kerrie
KERRIE'S COMMENTS:
CAMPLUNG MAS HOTEL
We found the Camplung Mas to be a great budget hotel, close to markets, restaurants and beach (about 400mtrs).
My husband and I were in a bungalow type room which had a little verandah (good for a few quiet bintangs) pebbled walkway, fence and gate.
The room was clean with a/c, hot and cold water in bathroom (actually worked) mini fridge and local tv.
Bed linen was changed everyday, towels etc.
Gardens and pathways kept neat and tidy.
Our 3 boys were in an upstairs building with rooms leading off from a hallway. Also clean and serviced daily. Plenty big enough for the 3 single beds in a row and all their mess. Balcony overlooked the pool area.
The pool was always clean with a swim up bar. Plenty of sunlounges though not much shade (we suggested some umbrellas).
Pool table (not the best condition but playable), table tennis, tennis court.Staff very friendly.
Restaurant had a good brekkie(ours included in price). Any fruit juice, eggs any style, bacon, ham or sausages, toast, coffee or tea.
Meals were just ok sometimes there was a long wait. We ate out most times as better food and cheaper (so close to everthing)
There are safety deposit boxes in reception. We all found it to be a great little place and will surely stay there again.

Lebak Bene (off Melasti St) Kuta
0361 751580/ fax 0361 751869