Photos courtesy of 'L&M from OZ'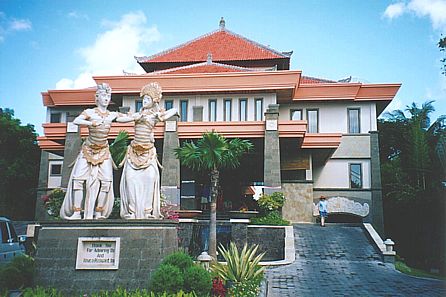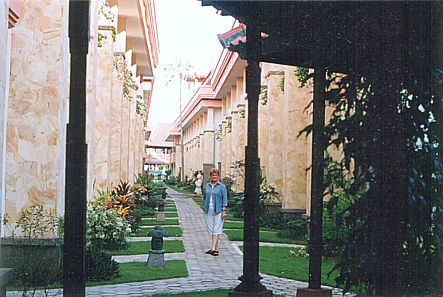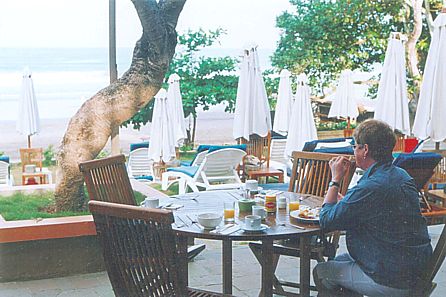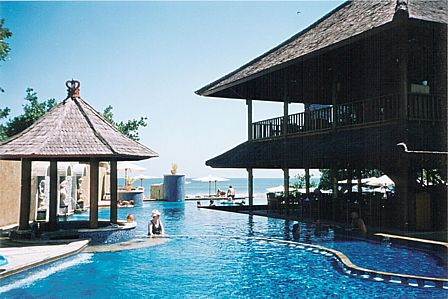 L&M's COMMENTS:
THE PELANGI, SEMINYAK
We took a bit of a risk here, we must admit. It was a brand new property, only opening last November and had some so-so reports on the BTF. The Pelangi has been described pretty well before. It is very new. Everything is clean and gardens are still being established. All the plumbing and electrical work. There are ample safety appliances present e.g. fire extinguishes, fire hoses, smoke detectors etc. Nice, well appointed rooms (not real big, but comfortable). A comfortable huge bed. No in room safe though, you have to use the security boxes at the front desk. The ground floor rooms have no terrace areas, just a couple of steps leading to the grass surrounded central walk way. The top floor rooms have just a small balcony, probably room for a couple of chairs, but not much else. It's built on a narrow property; but put to good use. Who ever was the architect has done a clever job. A nice water feature separates the lobby area from the accommodation blocks. Friendly, happy staff; some with limited English skills though. The included breakfasts were ample and had enough variety to suit anyone. They're served in a great location near the pool and beach. Choice of cereals, fruit juice, hot dishes, fruit and "Vegemite" available for the home sick Aussies. Overall value for money - excellent! We ended up paying about $38.00/night Australian each. Complementary transport to Bemo corner at Kuta four times a day. Nice new, air con mini buses. The beach setting wasn't too bad. Almost as good as an Aussie beach. Especially compared to the crappy Tuban beach from last year. Nicely-formed breakers 100 metres or so from the beach. Water clarity and sand reasonably clean, not as much litter about (Aussies do notice these things, don't they?). The hawkers stayed on the beach, but we soon made friends with them. A lot of laughs from "Johnny Walker" and "G'day mate, I'm Harry Butler" (the hat and wallet men respectively).